What the World Needs Now with Valerie Sneade
a Cabaret with pianist Jim Rice
By popular demand after last year's terrific success, Calliope Productions is bringing back Valerie Sneade and Jim Rice, the dynamic performance duo, in a new cabaret musical revue. What the World Needs Now which takes its title from a popular song of the mid-1960's, is guaranteed to provide audiences with a way to escape from the anger, violence, and other bad behaviors in the forefront of today's news and revisit the songs of the '50s, '60s and '70s, when pop culture turned to music as a way to express yearnings for peace.
Vocalist Valerie Sneade and pianist Jim Rice, two award-winning musical talents who grew up and began their performance careers in Central Massachusetts and who have established themselves as professional performers on cabaret circuits in Florida and throughout the East Coast, are excited about returning back to the Calliope stage.
"My performances are about the audience having a blast," Sneade says. "I love it when people start to sing along and clap their hands and tap their feet — which they often do at my shows. What the World Needs Now is guaranteed to bring back memories of popular songs. The audience is going to, above all, have plenty of fun. That's what my shows are all about!"
Valerie Sneade and Jim Rice will take us on a musical journey back to those days when the universal message was one of love and harmony, as revealed in the timeless hits of musical legends such as Donna Summer, Diana Ross, The Jackson Five, Burt Bacharach, Helen Reddy, John Denver, The Carpenters, Johnny Cash, June Carter, The Bee Gee's, and others - in a show that is a sure-fire winner for all generations.
NOTE: This production is for one weekend only, with two matinee performances that are sure to be sell-outs, so you are advised to make reservations or purchase your tickets online as soon as possible.
Performance Dates
Friday, February 1, 7:30 pm
Saturday, February 2, 2:00 pm
Saturday, February 2, 7:30 pm
Sunday, February 3, 2:00 pm
The performances are color-coded:
White = lots of seats available
Yellow = a popular show
Red = few seats left
Black = Sold Out
Tickets are $20 for regular admission, and $17 for students and seniors.
or

or call the Calliope Box Office at 508-869-6887 for availability.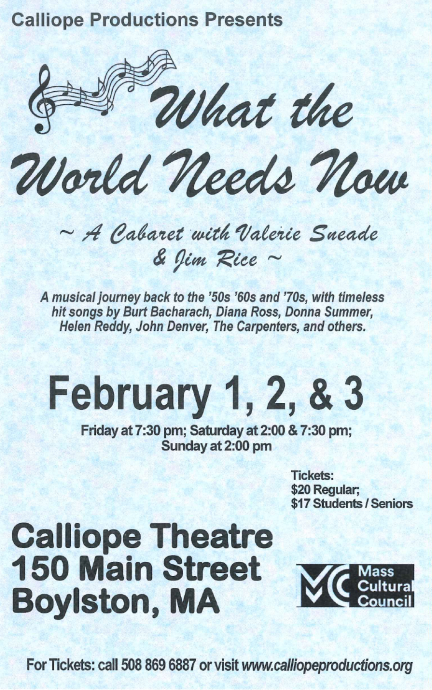 Cast
The Singer: Valerie Sneade
The Pianist: Jim Rice

---