A Cabaret with Valerie Sneade
As a special treat in February, Calliope is pleased to present a one-woman show by Valerie Sneade, an award-winning vocalist, who is well known from Massachusetts to Florida for her exciting cabaret performances. Her work features stirring show-stoppers, tender ballads, and witty conversations with audiences - much in the manner and style of Judy Garland, Ethel Merman, and Barbra Streisand. Accompanying her will be Jim Rice, an accomplished music director, arranger, and pianist, who has performed in theatres and concert halls throughout the U.S. and Europe.
NOTE: This production is for one weekend only, with two matinee performances that are sure to be sell-outs, so you are advised to make reservations or purchase your tickets online as soon as possible..
Performance Dates
Friday, February 16, 7:30 pm
Saturday, February 17, 2:00 pm
Saturday, February 17, 7:30 pm
Sunday, February 18, 2:00 pm
The performances are color-coded:
White = lots of seats available
Yellow = a popular show
Red = few seats left
Black = Sold Out
or

or call the Calliope Box Office at 508-869-6887 for availability.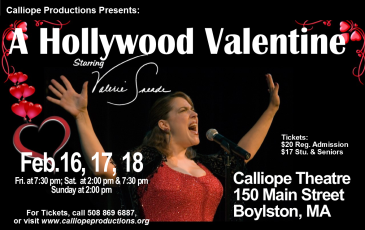 Cast
The Singer: Valerie Sneade
The Pianist: Jim Rice

---