A Hollywood Valentine with Valerie Sneade
a Cabaret with pianist Jim Rice
A Hollywood Valentine is Valerie Sneade's dynamic tribute to the songs by the great female vocalists who have given the silver screen its musical shine … Judy Garland, Barbra Streisand, Bette Midler, Doris Day, and more.
Professional singer, actress, and entertainer, Valerie Sneade has won awards, collected rave reviews from critics across the country, sung with Broadway stars, and performed on stages from the Grand Ole Opry to theaters and nightclubs in New York and Boston. Now she is bringing a stellar one-woman musical revue – accompanied by the multi-talented Jim Rice – to Calliope for one weekend only.
"My performances are about the audience having a blast," Sneade says. "I love it when people start to sing along and clap their hands and tap their feet — which they often do at my shows. My Hollywood Valentine is guaranteed to bring back memories of the singers and songs that dazzled us in the movies we have loved. And just because it has 'Valentine' in the title, don't think it's going to be all syrup and schmaltz – no, sir. The audience is going to, above all, have plenty of fun. That's what my shows are all about!"
An all-around entertainer, Sneade complements her superb vocal talents with a disarmingly wacky sense of humor that charms and engages her audiences – not to mention leaves them laughing. Audiences as diverse as small-town senior citizens, suburban Baby Boomers, and sophisticated Manhattan cabaret patrons have been enthralled by her charismatic performances. She has even won an award from the Independent Reviewers of New England for the best cabaret show.
"I love performing with Jim Rice," Sneade says about the accomplished pianist, arranger, and music director who has performed in theatres and concert halls throughout the U.S. and Europe. "He's one of the most amazingly talented musicians I've ever met. And I love performing in smaller theaters like Calliope's, that are so intimate. It allows me to really connect with the audience on a personal level, which is what I do best."

NOTE: This production is for one weekend only, with two matinee performances that are sure to be sell-outs, so you are advised to make reservations or purchase your tickets online as soon as possible.
Performance Dates
Friday, February 16, 7:30 pm
Saturday, February 17, 2:00 pm
Saturday, February 17, 7:30 pm
Sunday, February 18, 2:00 pm
The performances are color-coded:
White = lots of seats available
Yellow = a popular show
Red = few seats left
Black = Sold Out
Call the Calliope Box Office at 508-869-6887 for ticket availability.
Read the Worcester Telegram feature on Valerie Sneade (opens a new window)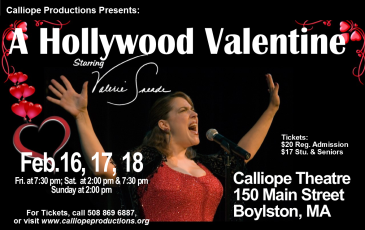 Cast
The Singer: Valerie Sneade
The Pianist: Jim Rice

---