Side by Side by Sondheim
A musical revue
Calliope Productions presents a celebrated musical revue of the works of Stephen Sondheim, the most influential creative artist in American Musical Theatre. Get ready to laugh, cry and fall in love with lyrics that are heart-breakingly true and music that captures your emotions. This Tony Award-winning musical is a perfect introduction to the work of this contemporary master and a must for die-hard Sondheim fans.
Performance Dates
Thursday, March 9, 7:30 pm
Friday, March 10, 7:30 pm
Saturday, March 11, 7:30 pm
Sunday, March 12, 2:00 pm
Friday, March 17, 7:30 pm
Saturday, March 18, 7:30 pm
Sunday, March 19, 2:00 pm
The performances are color-coded:
White = lots of seats available
Yellow = a popular show
Red = few seats left
Black = Sold Out
Thanks to the Worcester Telegram for a charming review. (opens a new window)
or

or call the Calliope Box Office at 508-869-6887 for availability.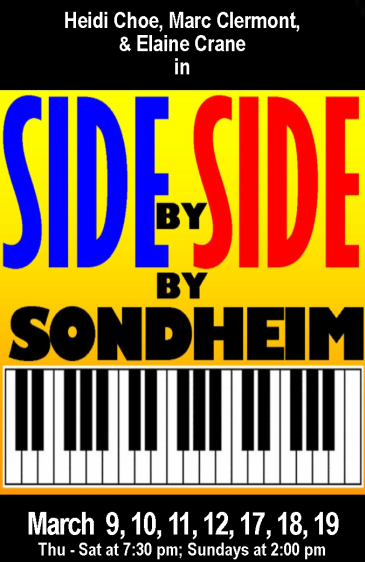 Cast
Heidi Choe, Marc Clermont, and Elaine Crane
Piano: Bill Condon, John Leslie
Directed by John Leslie
---