Calliope Pre-Teen Youth Theatre Workshop
Fall 2023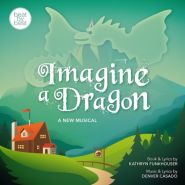 *** This Workshop is closed for new registrations ***
Workshop Director:
Megan Burke
Age Requirement:
Students who are in grades 3 – 7 in Fall of 2023
Workshop Dates:
9/9/23 – 10/28/23, Saturday mornings, 9-11 am
Dress rehearsal is on 11/4/2023 at 12 pm
Performances are on 11/4/2023 at 2 pm and 4 pm
ALL PARTICIPANTS MUST BE AVAILABLE FOR ALL PERFORMANCES
Workshop Details:
During the course of this 9-week workshop, students will concentrate on performance-related skills such as diction, voice-projection, singing, stage movement, choreography, and characterization. They will learn about technical and practical aspects of presenting plays as they work towards staging a production.
Workshop Cost:
Tuition total is $175, a non-refundable deposit of $75 is due at time of registration, the balance will be due on the first day of the workshop
Production Team:
Director/Choreography: Megan Burke, Music Director: Devynn Boudreau
The Show:
IMAGINE A DRAGON - a new one-act children's musical
The dragon is back in town! Well… not really. That's the story a ragtag band of innkeepers makes up, desperate to draw questing heroes to the struggling Dancing Dragon Inn. Soon the inn is full of unexpected guests, from an army of princesses out to prove their bravery, to a group of overwhelmed heroes trying to hold onto their fame. But what happens if they all discover the innkeepers' dragon story is made up? Could there be more than one way to save the day? An epic folk-rock score brings magic to this funny, heartfelt fantasy musical.
ALL WORKSHOPS ARE CONDUCTED AT CALLIOPE'S THEATRE AT 150 MAIN STREET IN BOYLSTON, MA
---