The Complete Works of William Shakespere (abridged)
A Comedy
This fall, Calliope Productions is thrilled to present The Complete Works of William Shakespeare (abridged) - an irreverent, zany, and frenetic romp through all 37 of Shakespeare's plays in 97 minutes. If you love Shakespeare, hate Shakespeare, or don't care one way or the other, this production is made for you!
This show broke the record for the longest-running comedy in London's West End when it closed in 2013 and is one of the world's most frequently produced plays - with productions having been staged in more than a dozen different languages around the world since its debut performance in 1987.
Performance Dates
Friday, October 20, 7:30 pm
Saturday, October 21, 7:30 pm
Sunday, October 22, 2:00 pm
Friday, October 27, 7:30 pm
Saturday, October 28, 7:30 pm
Sunday, October 29, 2:00 pm
The performances are color-coded:
White = lots of seats available
Yellow = a popular show
Red = few seats left
Black = Sold Out
Tickets are $20 for regular admission, and $17 for students and seniors.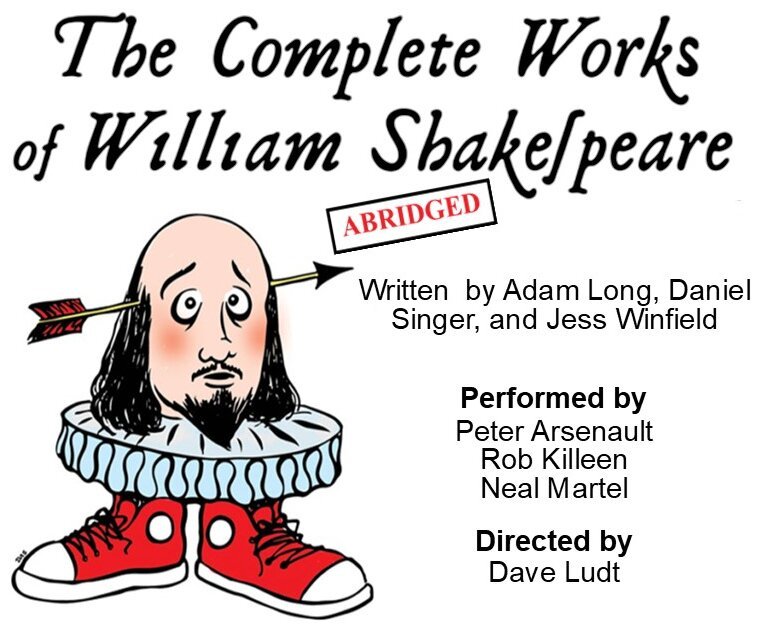 Cast
Peter Arsenault
Rob Killeen
Neal Martel
Director
Dave Ludt
---